I've been familiar with policy routing for years and understand it pretty well. I've spent 2 hours today banging my head trying to figure out if I am just dumb or if something isn't working like it should.
I have 2 routers on the internet. One is L2TP server, the other is client. The server has multiple WANs, so I've setup connection mark, packet mark, and route marks. This works perfect for everything, except L2TP to the router itself. I am seeing the reply's to the l2tp tunnel setup leaving the wrong interface with the wrong IP, and even weirder is that I don't even see a trace of it in the connection-tracking table. Has anyone had this same issue?
The picture below shows the client making the connection thru 3-development (2nd wan), and the reply packets immediately get sent back via default gateway and the wrong IP address.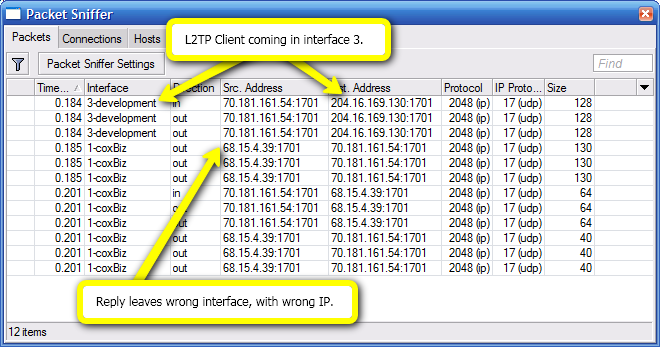 Here is the mangling setup, which works perfect for anything else:

I'm also posting the routing table that is used for the route mark because i'm hoping this is where my problem is.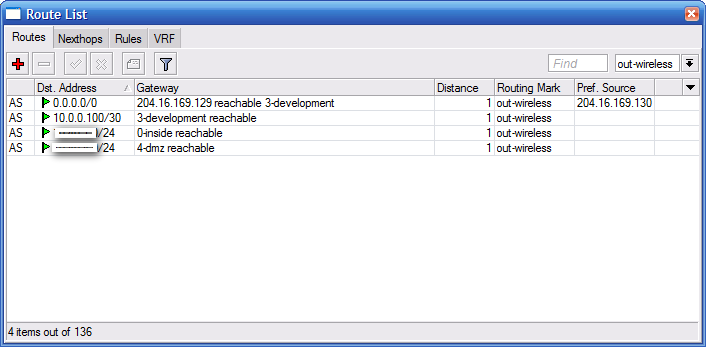 I can see the connection mark counter increase so I believe the packets are getting marked, however I cannot find them ANYWHERE in connection tracking, even when using CLI to search. I also see the packet marks and route marking counters increasing. SSH connections taking the exact same path works, so it must be something to do with the L2TP server, the fact it's UDP, and maybe that the kernel is handling it at a higher level? Please someone make me stop banging my head : )
Sam