Hello.
I have to setup a small home network project and I need your help in order to choose the correct mikrotik hardware product (ethernet router or switch), for my needs. Actually I'm looking for a suggestion like (i.e.) "The minimum you need is hex lite, but same can be done with switch CRS106-1C-5S".
Please check first the attached image with a draft pricture of my project and then read my notes below, with explanation and requests.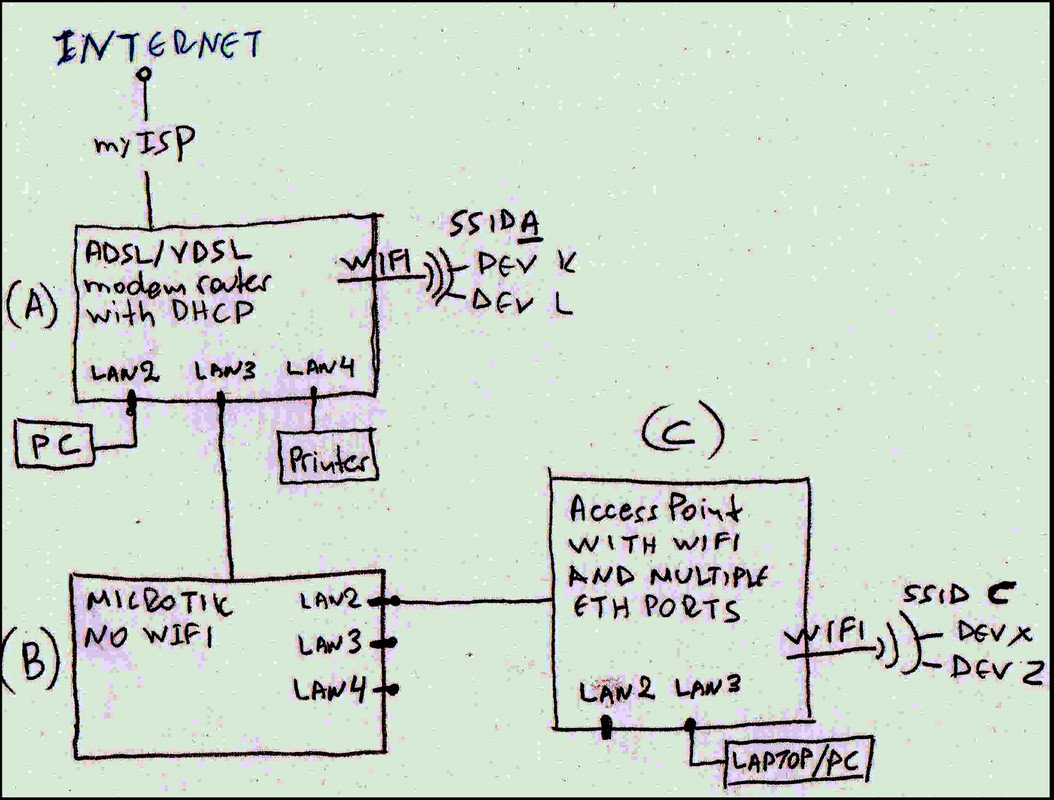 My ISP provides me internet through an adsl modem/router (POINT A) that has multiple ethernet ports (4) and wifi features. On this router are connected a PC, a network printer and multiple wifi devices (let's assume DEV K and DEV L (through SSID A)
From exit LAN3 (lan number is not important) I want to provide interner to an access point (POINT C) where various devices will be connected through ethernet and wifi (lets assume DEV X and DEV Y - different SSID compared to POINT A). Those devices on POINT C will change occasionally in terms of number and connection type (lan or wifi)
Between Points A and C I want to position a network device (POINT B) that does act as a bandwidth limiter and firewall as well (check more notes below). I assume that a mikrotik device will cover my needs and HERE I need your help about the required device.
Connection distance from points B and C (mikrotik -> access point) is about 30metes through good quality cat 6 cable.

(Crucial) :

Exit LAN2 from point B mickotik device MUST HAVE bandwidth limits, i.e. 10mbps down and 1 mbps up. To be more clear I want the maximum bandwith that access POINT C can get in total is 10/1 (down/up - numbers are indicative). Here I need the mikrotik device to work as router

(Crucial) :

Any devices connected to access POINT C, MUST NOT be able to find/explorer/access any devices connected to POINT A. Actually I want to protect any possible file shared folders or ransomware attacks. Here I need mikrotik device to act as firewall.
All devices on access POINT C should get dynamic internal IP addresses (no static IPs setup).
Clients connected to access point C, should NOT be able to enter mikrotik device control panel (POINT B) and change settings. I assume a login/password feature, within POINT B is enough, but should be noted.
So this, is my project and need your guidance which is the minimum mikrotik device that can fullfill my needs. I am open to suggestions for something better (i.e. you need at least switch X but better get hex Y as has that extra feature).
If I have to purchase and extra software licenses, please let me know in advance.
I have knowledge of networking, so will manage to setup settings.
Thanks for reading and thanks in advance for your help