Hello.
I have a Mikrotik hAP ac lite [RB952Ui-5ac2nD].
I just can't get the 5th port to work normally (the one with poe-out).
When a link is connected to this port, wild packet loss occurs (even with a normal ping, 2 out of 3 packets are lost).
The "RX FCS Error" counter in the port settings is constantly growing (about 17 thousand errors occur in 10 minutes of work), and "Rx Align Error" is also constantly growing.
I tried to turn off Auto Negotiation, turn off poe, force 10, 100 megabits half and full duplex. Of course, I tried to connect different computers, laptops, even an ordinary access point to the port, changed the cables - nothing helps. In other ports (1-4) everything works perfectly.
The firmware is the latest (6.47.8).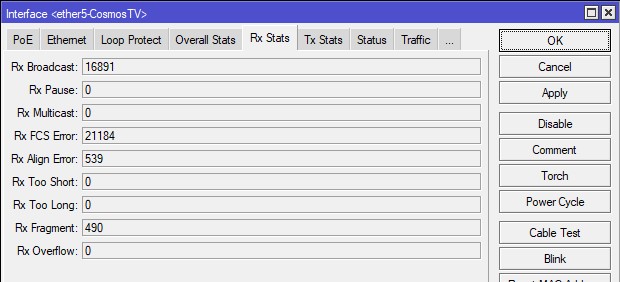 Have no idea what happens and how to solve it.
May be a hardware issue?
Thanks.